Location
Located in Istanbul's Historic Sultanahmet district
Eresin Hotels Sultanahmet is located in Istanbul's historic center, close to the city's main touristic, entertainment and shopping areas and just a short walk away from world-famous sights such as Blue Mosque, Haghia Sophia, The Hippodrome, Column of Constantine, and Topkapi Palace, has its own unique identity.
For questions regarding directions to Eresin Hotels Sultanahmet, please contact us at info@eresinsultanahmet.com.tr.
How to get to the hotel
Istanbul New Airport and Sabiha Gokcen Airport are 45 kilometres away from Eresin Hotels Sultanahmet in central Istanbul. You can easily drive to Eresin Sultanahmet in approximately 50 minutes. As you exit customs, taxi drivers are waiting outside of the arrivals floor to provide transportation to international visitors. If you ordered a pick-up service you will meet our driver at the exit of the International Arrival Gate area. If you experience any problems in getting to Eresin Hotels Sultanahmet, please dial 24 hours a day +90 (212) 638 44 28 (PBX) to contact our reception.
Kucukayasofya Cad. No.40, 34122 Sultanahmet – Istanbul
Eresin Hotels Sultanahmet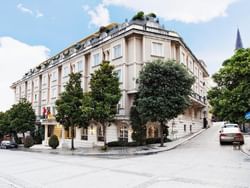 Eresin Hotels Sultanahmet is a luxury Istanbul boutique museum hotel in the historical heart of the city.