Junior Suite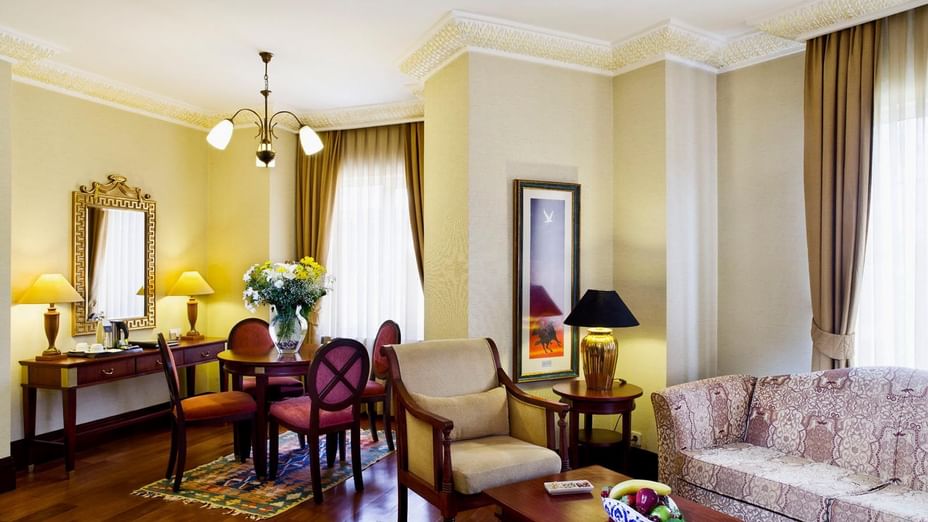 Welcome to our spacious and luxurious Junior Suites, ranging from 42 to 52 square meters in size. Our suites are designed with your comfort and relaxation in mind, providing you with a home away from home during your stay.
Our Junior Suites feature parquet flooring and jacuzzi bathtubs, perfect for a relaxing soak after a long day of work or exploring the city. The air-conditioning is individually controlled, allowing you to set the temperature to your desired comfort level. The double glazed windows also ensure a peaceful night's sleep.
In addition to the standard amenities such as a minibar and hairdryer, our Junior Suites also feature a telephone by your bedside and in the bathroom for your convenience. You'll find an electronically locked safe to store your valuables, as well as electronic key-card locks for added security.
Entertainment is at your fingertips with the LCD TV featuring local and international satellite TV channels, radio and music stations, and in-house multi-video and music systems. You'll also have access to complimentary Wi-Fi throughout your stay.
Our Junior Suites provide the ultimate luxury and comfort for your stay. We're confident you'll love every moment of your time with us.