Family Suite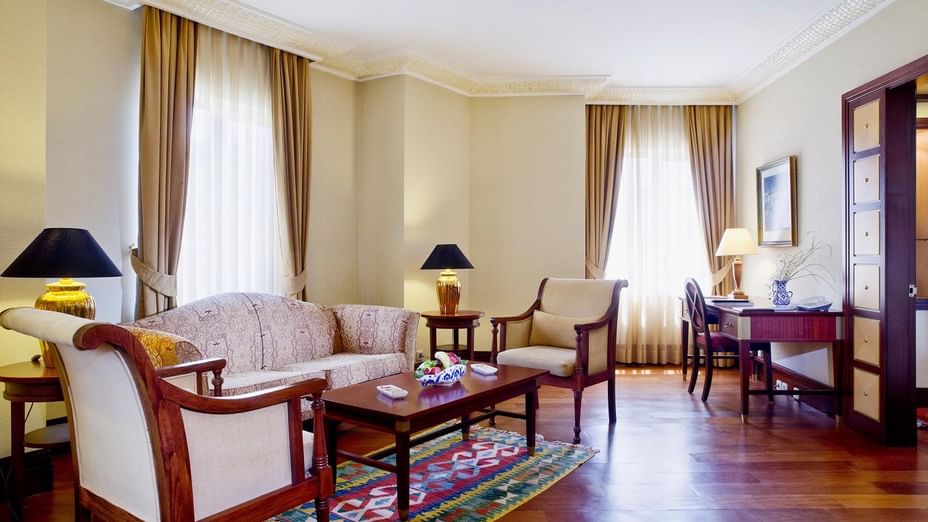 Welcome to our spacious and comfortable Family Suites, ranging from 70 to 80 square meters in size. Our suites are perfect for families or groups, offering ample space and all the amenities you need for a relaxing and enjoyable stay.
Our Family Suites feature three LCD TVs, ensuring that everyone can watch their favorite shows and movies. The air-conditioning is centrally controlled, keeping the entire suite cool and comfortable during the hot summer months. You'll also find a minibar and hairdryer in the suite for your convenience.
The suite features two Jacuzzi bathtubs, providing you with a luxurious opportunity to unwind and relax. You'll also have access to tea and coffee making facilities, so you can enjoy a hot drink at any time of the day.
For added convenience, our Family Suites feature two safeboxes, one in each bedroom, to keep your valuables safe and secure.
The suite features two bedrooms, providing plenty of space and privacy for everyone. There is also a dining room and meeting area, perfect for enjoying a meal together or conducting a business meeting.
Our Family Suites provide the perfect home away from home for families or groups. We're confident you'll love every moment of your stay with us.