Your Ultimate Destination for Relaxation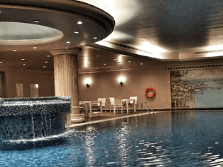 You will experience a high level of relaxation at our Aqua Life & Spa Center in Istanbul. Our guests can enjoy the indoor heated swimming pool, jacuzzi and Hammam (Turkish bath) of our 5-star facilities. Highly qualified therapists provide customized spa experience with many types of massage choices.The Health Club also offers a full range of exercise and recreation facilities. Guests can work out in our fully equipped fitness centre and unwind at our indoor heated swimming pool.
Our Spa Service Is At Your Side
Traditional Turkish Bath
Fitness Center
Instrumental slimming and tightening applications
Sauna
Heated Indoor Swimming Pool
Vitamin Bar
Gymnastics, aerobics and step works
Steam Room
Dressing Room
Massages
To benefit from the massage service, please make a reservation between the following hours: Weekdays - Weekend: 10:00 a.m - 10:00 p.m
Our facilities of spa & health club are free of charge to our guests staying at our hotel.
For reservation and information, please call the Health Club reception.
Phone: +90 212 631 1212 Interphone: 3901 - Aqua Life & Spa Center Reception