Location
Eresin Hotels Taxim Premier Located in Central Istanbul Taksim
Eresin Hotels Taksim & Premier is in the center of the city, an attractive region for your business and leisure trips. It is within walking distance to shopping centers, historical attractions, Istanbul Lütfi Kırdar Convention and Exhibition Center as well as cultural centers and foreign consulates. The city's financial and textile districts, the Istanbul Free Trade Zones, and the airport, seaport and funicular, Metro train station are also easy to access from the hotel.
There are many options to come Eresin Hotels Taksim & Premier from Istanbul Airport. By private taxi service, door to door which is available 24 hours. Distance from hotel is 45 km, drive time is 45 minutes.
You may also use public transportation. You can board to HAVAIST bus transporter from airport direction to Taksim. When you get out of the HAVAIST bus at Taksim, you can easily reach the hotel in about 5 minutes walking distance.
How to get to the hotel
İstanbul's other airport Sabiha Gökçen International Airport (SAW) is on the Asian side. There are shuttles working between Sabiha Gokcen Airport and Taksim Square every half an hour. The duration of the trip is about an hour and a half depending on the city traffic. The total distance between Airport and Hotel is approximately 60 km.
You may also enjoy a hassle-free of charge airport transfer with our private cars. Skip the stress of finding a taxi or sharing a shuttle at the start of your trip. After a long flight, enjoy the convenience of a private transfer to Eresin Eresin Hotels Taksim & Premier. For detailed information please contact to our hotel.
Topcu Cd. No.16, 34437 Taksim – Istanbul
Eresin Hotels Taxim & Premier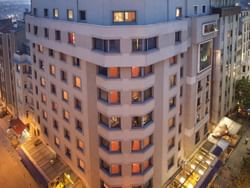 Eresin Hotels Taxim & Premier in Taksim is ideally located in the heart of Istanbul's shopping, entertainment and cultural area.